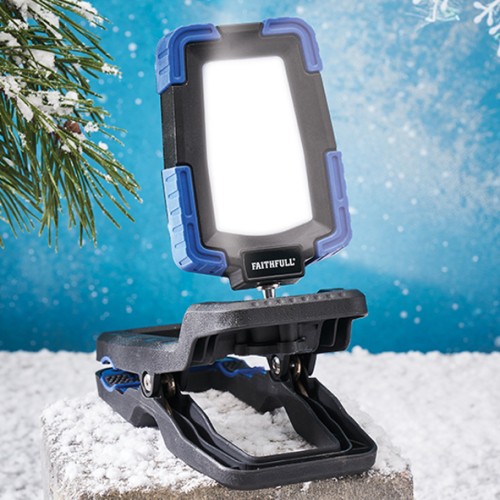 The Faithfull Rechargeable Clip Light has a 10W LED that provides a high light output of 1000 lumens. It is manufactured from heavy-duty PC plastic with an impact-resistant lens and rated at IP65 for water and dust ingress protection.
The heavy-duty clamp has an opening capacity of 47mm with 80N clamping force for secure attachment to poles, beams and more. Swivel pads adjust to clamp onto square surfaces, and a concave indentation allows attachment to round poles. All clamping surfaces feature a non-marring rubber grip.
The light can also be used as a freestanding light. A 360° swivel ball joint allows the angle of the lamp to be adjusted to direct the light exactly where it is needed.
The light has a heavy-duty lithium-ion battery which is lightweight but powerful, providing up to 10 hours of continuous light on one full charge. A power bank USB port enables you to charge personal items such as MP3 players and even mobile phones with a compatible lead.
Designed for both commercial and domestic use. Supplied complete with USB charging lead.
Contents & Features
Supplied complete with USB charging lead
High light output of 1000 lumens
Made from heavy-duty PC plastic with an impact-resistant lens
Up to 10 hours of continuous light on one full charge
Power bank USB port enables you to charge personal items
Rated at IP65 for water and dust ingress protection
Specification:
LED Power: 10W
Lumen Output: 1,000
Operating Modes: 100%, 50%, 25%
Beam Angle: 120°
LED Type: SMD
Colour Temperature: 6500K
Battery: 3.7V 2500mAh Li-ion
Charge Time: approx. 2.5 hours
Run Time: 3-10 hours
Power Bank Output: 5V 1A
Charging Cable: Type C USB x 1m
IP Rating: IP65
Overall Size: 87 x 69 x 177mm
Related Products
Tags: xmas-2022-tools